Chennai Born Confused Softie
Chennai Ambi's Musings...
Wednesday, August 24, 2005
Uncle Bala's interview at Pg
Pagalguy aka allwyn :lol and subbu came down over here to take the interview of Uncle Bala. Hope it gives good publicity to Great lakes. The interview is given below
Interview
:: scribbled by Prashanth at 8/24/2005 12:03:00 PM
(0) Comments
|
Link this post
|
|
Thursday, August 18, 2005
Cricket in Great lakes
All assignments and no play makes Prashanth a super dull boy/man....
Mebbe God's answer to that came in in the form of a cricket match between two great lakes teams..
since we dont have a proper full time campus as on date we had to look forward to outside venues.
and bingo..we landed up at anna university college ground right behind our college..
the match was inaugaurated by our associate dean and we won the toss..
i was unanimously elected as the team captain..find it hard to believe??even i found it..after all people trust my abilities so much that i had to finally yield in to their pleas to be their captain and guide them..how magnanimous u might say..please stop extolling me..its okay..its not such a big sacrifice..
we scored 127 in 20 overs with tariq,pavan,saurabh and deepak chipping in with useful runs.
the opponents had an extremely talented player in aditya suresh who took the match away from us with a solid knock of 47 runs. my bowling was at its worst i conceded 30 runs in 3.4 overs.
anyways it was great fun and helped us flex our muscles..a good and well deserved break i guess..
the pics are shown below..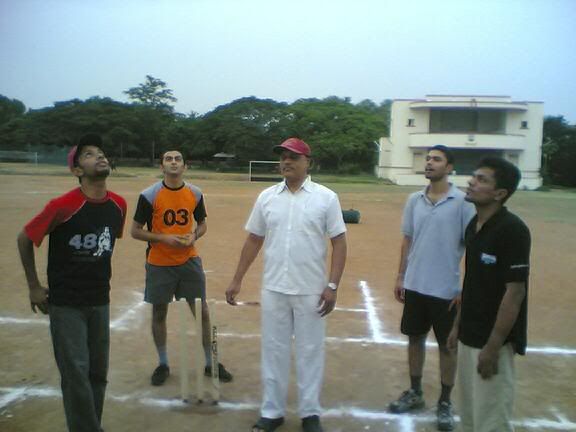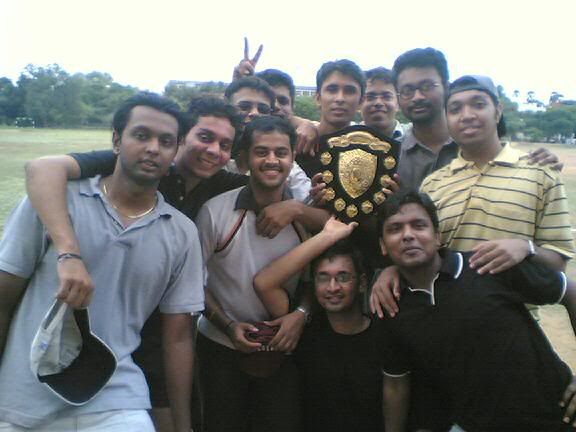 :: scribbled by Prashanth at 8/18/2005 08:59:00 PM
(0) Comments
|
Link this post
|
|
Friday, August 05, 2005
KBC
if u guyz are thinking its kaun banega crorepathi , think again..its about K.B.Chandrasekar a person who himself is a multi millionaire and a succesful entrepreneur. the article below talks about him.
credits to Satish
In the series of great guest lectures at
Great Lakes
, l
ets meet
Mr. K B Chandrasekhar
, a great technology entrepreneur, in this writeup. Chandra is the co-founder, CEO, and chairman of Santa Clara, Calif.-based
Jamcracker Inc.,
a provider of on-demand delivery and management software. He is also the co-founder and chairman of
e4e Inc.
, a global technology holding company, and chairman of
Aztec Software and Technology Services Ltd.
, This is a guy who started his company with a mere $4500 and is today, one of the most admired techies of the Silicon Valley.
To describe in one line, he sets the place electrifying, wherever he goes. His energy and enthusiasm are extremely contagious.

Chandra gave us a motivating talk about his journey as an entrepreneur, his ups and down and shared with us the mistakes that he committed and the learnings and his comeback.

Lessons Learnt


Straddling two worlds - irrational exuberance and nuclear winters
Startup companies typically undergo two extremes, one is an irrational exuberance that makes them think that growth is permanent and the other extreme the nuclear winters, when the entire world seem to be falling apart around you. Resilience is the way to survival!
Adapting to market realities - The thought that we are not always right has to learnt and one has to necessarily adapt to the realities of the market. This is all the more important in a very dynamic industry like the Hi-tec.

Make swift decisions
Decision made on time is as much important as making the right decisions. This is one of the important reasons for the series of startups that Chandra could do.

Doomed if you do, domed if you don't
Its all about guts. When you know that, either way your are doomed, better try what you want to try before getting doomed. In Chandra's words, sometimes, when you are almost drowned, there could jus one strand of hair that's floating in the water and suddenly someone might lift you up by pulling that one hair of yours.

Tourists come and go but entrepreneurs stay for passion
Fire in the belly! Anyone who gets to listen to his lecture would recall his name with energy and passion. The belief that we are here to stay makes one keep going...

Luck matters and you need lots of its succeed
Finally, thou' luck has different names and perceptions, that concept of lots of external factors coming together in favour of your business idea is a must!
Chandra is known to be extremely interested in the India and the youth. He has sponsored the setting up of an research center at his almamater MIT, Chennai.
:: scribbled by Prashanth at 8/05/2005 11:36:00 AM
(1) Comments
|
Link this post
|
|