Chennai Born Confused Softie
Chennai Ambi's Musings...
Monday, April 24, 2006
Is this really love??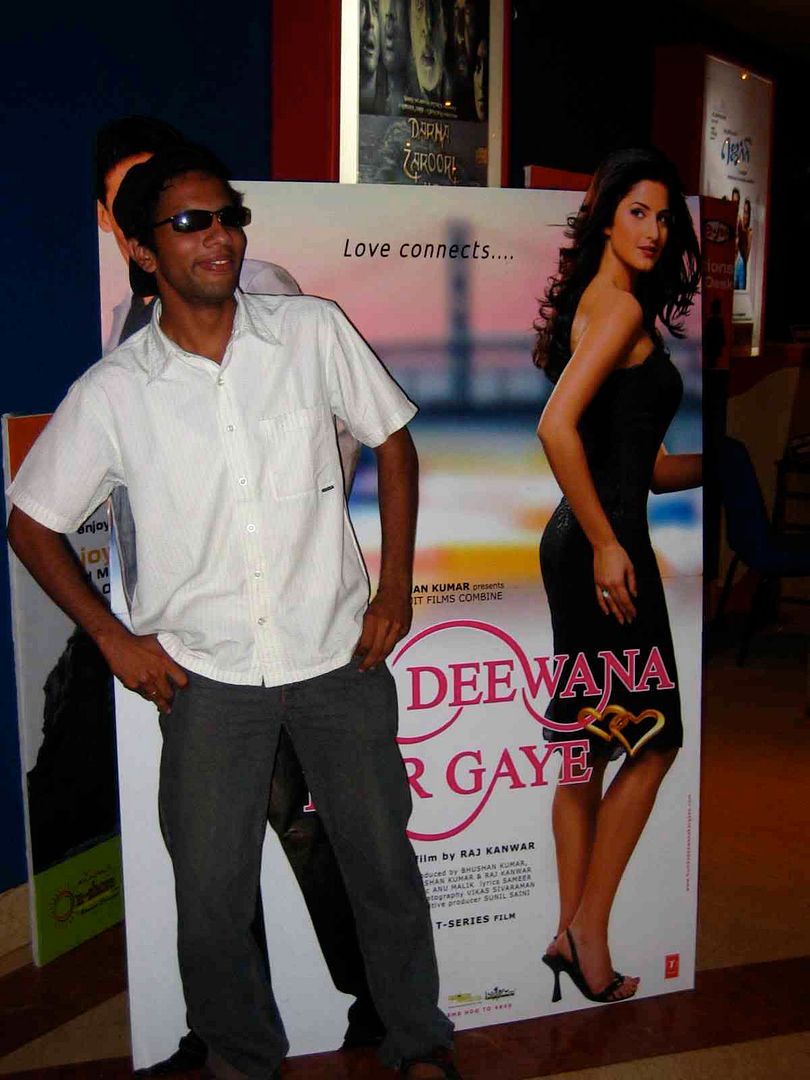 :: scribbled by Prashanth at 4/24/2006 06:58:00 PM
(6) Comments
|
Link this post
|
|
Sunday, April 16, 2006
Harshil's space
for the uninitiated, harshil shah is my room mate and he has also been bit by the blogging bug. And Boy!! he does write really well .. he did not request me to add this but i felt it would do him a world of good if i gave a link from here..
Here goes the
Link
:: scribbled by Prashanth at 4/16/2006 08:15:00 AM
(1) Comments
|
Link this post
|
|
Thursday, April 13, 2006
What do you call a person who..!!
What do you call a person

who has consistently scored 90 + in his school days..
who got 476 /500 in CBSE board with 79 marks in english..
who watches all tamil new films..
gets 440 odd rank in IIT JEE and studies mech in IIT madras..
who downloads even satyaraj's movies like 6'2 and gives u his review..
who studies just before exams and manages to score 9 pointer in UG..
who wrote CAT just for the heck of it and managed to get just 6 calls with 99.79 percentile..
who persuaded his father to buy a pulsar because he wanted to get the joy of riding in a bike before 23 years as he believes he in all probability will be travelling only by cars or flights..
who listens to all sorta music and loves rock and doesn't miss any head banging oppurtunity..
who religiously plays cricket and plays in all hostel matches..
who freaks out like crazy..
who is 100% connected to orkut with close to 1000+ scraps..

and who has few options in life after his UG in IITM like

A job in ITC ( sal close to what IIMites get..)

An admit from IIMA

an admit from MIT( Massachusset Institute of Technology)

well... he happens to be Hari prashanth's cousin --- and his name is ganesh.... ( ain't it obvious that my cousins are supposed to be intelligent lest they get inferiority complex on comparing with me..)

wrote this post as he got the IIMA letter yesterday..felt i needed to dedicate one post to him.. way 2 go daa chotu..proud of you... and girls below age 21 who are reading this my cousin is also really good looking..;)
:: scribbled by Prashanth at 4/13/2006 03:19:00 PM
(6) Comments
|
Link this post
|
|
Sunday, April 09, 2006
Colour of poverty is Red !!
As you people all know i am still a student and towards the fag end of my course. so as is the case with all students i too am cash strapped !! despite such limitations i still like to live life king size...
me and my roommates decided to go to a restaurant and the budget per person was the smallest 3 digit number . we brainstormed for half an hour and finalised on a set of three hotels. then based on lucky dip we decided to goto wang's kitchen. But as luck would have it all the jobless buggers in the city lined up in wang's kitchen and the queue extended to a length which could be compared to that of the "jarugandi" tirupathi queue.
Still undeterred by the outcome we decided to explore unchartered territories. Boarded our street hawks and vroomed and zoomed across the streets of adyar and besant nagar. Then suddenly we saw a shoddy building with peeled paint and a board hung below that. it read " shangri la " - chinese restaurant. my ingenious roommate the future mckinsey consultant - harshil shah figured out that this would be the cheapest chinese restaurant on planet cons . and considering all (me and my other 3 roomies) our intelligent quotients we immediately accepted his analysis and marched towards the first floor where the hotel was located. as soon as we entered the corridor , one chinese guard saluted us. we were amazed that even the cheapest chinese hotels were trying to provide highest levels of customer satisfaction.( yeah, we are so dumb that we still did not figure out the real picture)
then reality dawned us as we entered the restaurant wherein it looked like a posh 3 star hotel. filled fully with chinese frescoes, chinese incense sticks, what not else.. we wanted to run away but unfortunately one of our professors was dining there and he saw us. so we were forced to get in.
the fated moment arrived. we got the menu card. prices ranged from 270,300, 350,400....!@#$@!#$
we did a sort algorithm searching for the cheapest price and there it was soup -- bingo 130 rs...what????
Me to the waiter --- can we get a 1/4 soup......
waiter...#$#@$%#$# ( looking damn red..) ( the reaction on his face --- priceless !!)
yeah..its true colour of poverty is red..
:: scribbled by Prashanth at 4/09/2006 12:28:00 PM
(0) Comments
|
Link this post
|
|
Wednesday, April 05, 2006
My heart beats for...
Listening to kanmoodi thiramkumbodhu song from sachin and
my heart immediately starts beating for...
:: scribbled by Prashanth at 4/05/2006 11:34:00 AM
(2) Comments
|
Link this post
|
|
Sunday, April 02, 2006
MBA... what do you gain.. apart from knowledge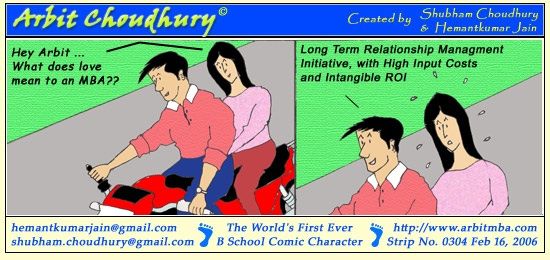 Apart from the learnings that the different professors have imparted on me, i believe there are a lot more takeaways from my one year MBA life...
I understood that you need to use jargons like crazy shit and no matter whatever question anybody asks you, the answer is incomplete unless its replete with words like strategy, competitive advantage , focus and other arbit stuff...
You realize that there are 3 sets of people in your college - the thayir sadams i.e the locals who still relish on thalaivar's dialogues, swoon to gaana ulaganathan's songs and crave for a tamil movie to be released every week , the hybrids who are locals but have adapted to western culture and are predominant nocturnal animals swaying in different directions in discos and pubs as well as swearing that nothing beats english movies and the third being the north indians who are the very much similar to thayir sadhams but swearing their loyalty to shahrukh and others.
Google is the mother of all inventions and a MBA student without google is equivalent to a soldier without his armour and artillery in the battlefield. Google rocks !!!
Treats become more common and bumps become more harder and heavier considering that you have well built 25 year + individuals as your classmates who adore you so much that they would like to leave their footprints on you for a lifetime..
Some come in to study and get a job, but fortunately/unfortunately add a excess baggage in their kitty in the form of a commited status..
You start talking a hell lot of hindi and english and your dialect oscillates between the local language english and hindi.. and it is pain in the a$$ for other juntha to talk to you.. "
one sample--
" abbe yaar aaj kaa tests tho fundamentals ko zyaada hi test kiyaa..its a total dumeel machaan"
your vocabulary gets restricted and you start using the word
stud
as the superlative synonym for anthing which is good.. you use it so often that the other person gets highly irritated..
by the time the course ends orkut seems to be the best invention after google and people say networking karna hota hai..the question is with whom??
I used to view cafe cofee day as a place to burn money , but now it seems perfectly normal and barristas and amethyst are perfectly normal places for meeting up . In fact there is no better meeting spot apart from these, maybe bessie still has a edge.
paying 70 Rs for a movie is perfectly normal while earlier in engineering paying anything more than 20 was considered as sacrilege.
i found out how to celebrate the wierdest birthday parties.
On a serious note, an MBA does enable you to work really effective in a team, be a good team player and leader as and when situation demands, take up responsibility and try to come out with innovative ideas or solutions. do have some wierd ideas to start a biz but dont have the ba**s to take the risk... risk taking is one thing which i have not gained here..apart from that its been a roller coaster ride so far..
:: scribbled by Prashanth at 4/02/2006 02:18:00 PM
(7) Comments
|
Link this post
|
|