MBA... what do you gain.. apart from knowledge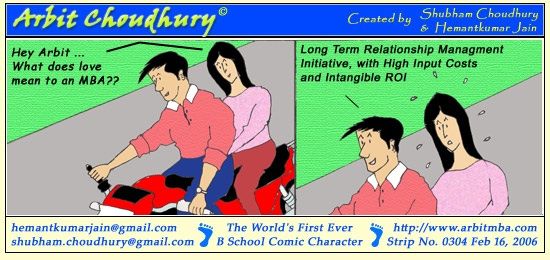 Apart from the learnings that the different professors have imparted on me, i believe there are a lot more takeaways from my one year MBA life...
I understood that you need to use jargons like crazy shit and no matter whatever question anybody asks you, the answer is incomplete unless its replete with words like strategy, competitive advantage , focus and other arbit stuff...
You realize that there are 3 sets of people in your college - the thayir sadams i.e the locals who still relish on thalaivar's dialogues, swoon to gaana ulaganathan's songs and crave for a tamil movie to be released every week , the hybrids who are locals but have adapted to western culture and are predominant nocturnal animals swaying in different directions in discos and pubs as well as swearing that nothing beats english movies and the third being the north indians who are the very much similar to thayir sadhams but swearing their loyalty to shahrukh and others.
Google is the mother of all inventions and a MBA student without google is equivalent to a soldier without his armour and artillery in the battlefield. Google rocks !!!
Treats become more common and bumps become more harder and heavier considering that you have well built 25 year + individuals as your classmates who adore you so much that they would like to leave their footprints on you for a lifetime..
Some come in to study and get a job, but fortunately/unfortunately add a excess baggage in their kitty in the form of a commited status..
You start talking a hell lot of hindi and english and your dialect oscillates between the local language english and hindi.. and it is pain in the a$$ for other juntha to talk to you.. "
one sample--
" abbe yaar aaj kaa tests tho fundamentals ko zyaada hi test kiyaa..its a total dumeel machaan"
your vocabulary gets restricted and you start using the word
stud
as the superlative synonym for anthing which is good.. you use it so often that the other person gets highly irritated..
by the time the course ends orkut seems to be the best invention after google and people say networking karna hota hai..the question is with whom??
I used to view cafe cofee day as a place to burn money , but now it seems perfectly normal and barristas and amethyst are perfectly normal places for meeting up . In fact there is no better meeting spot apart from these, maybe bessie still has a edge.
paying 70 Rs for a movie is perfectly normal while earlier in engineering paying anything more than 20 was considered as sacrilege.
i found out how to celebrate the wierdest birthday parties.
On a serious note, an MBA does enable you to work really effective in a team, be a good team player and leader as and when situation demands, take up responsibility and try to come out with innovative ideas or solutions. do have some wierd ideas to start a biz but dont have the ba**s to take the risk... risk taking is one thing which i have not gained here..apart from that its been a roller coaster ride so far..