Chennai Born Confused Softie
Chennai Ambi's Musings...
Wednesday, September 28, 2005
Scudie's hykoo...
this was one of the comments scudie posted in my last post and i dont want it to go it to waste..let talent be recognised...

dunno if Chapell rox
dunno if Ganguly sucks
they've both made big bucks
the cricket loving public are sittin ducks
the bcci is now in a fix
the courts have been thrown into the mix
i take this opportunity to tell them all
go SUCK YOUR DICKS


scudie thalaivaa..unnai thalai vanangiroom..(we salute thy..abhi,happy??)
:: scribbled by Prashanth at 9/28/2005 12:24:00 PM
(3) Comments
|
Link this post
|
|
Tuesday, September 27, 2005
ganguly chappel drama ends - result compromise
shit !!! this is the most absurd climax..nah..anti-climax ..though expected this was real shit !!! ganguly's ass needed to be kicked...anyways i guess ganguly will be kicked after the next series as the pressure will be on him...and he will defly not perform..we need some serious ass kicking of other players...next post will have some real revealing stats of the bowlers..i am happy harbhajan will be under the scanner..he has been a junior ganguly and no wonder was supporting him..the next series is going to be a whitewash loss for the team and ganguly-bhajji will be kicked out due to non performance . thats my prediction..hope it is true....

as far as BCCI is concerned.....

a big fu*********kkkkkkkkkkkkkkkkkkk uuuuuuuuuuuuuuuu to u guyz.....
:: scribbled by Prashanth at 9/27/2005 07:01:00 PM
(2) Comments
|
Link this post
|
|
Ganguly..your days are over,,can u please GET OUT of the team!!
It has got too far...its high time ganguly quitted the team.. this is a huge post of some real good analysis's from various sites.
The post first details ganguly's stats followed by the chronology of events leading to the spat between ganguly-chappell , which are followed by public opinion and finally my opinion.Ganguly supporters please take a hike and for once think rationally. if u r seriously looking at development of indian cricket kindly take your man out of the team else please do keep him and let us watch him score glorious hundreds against extremely talented and world renowned teams like zimbabwe,UAE,bangkladesh,kenya and many other world beating teams.
Sources
Cricinfo
indiatimes
STATISTICS
A cursory look at the stats don't reveal the rot that has set in - in his last 14 Tests, starting with the second Test of that series in Australia, Ganguly's stats read 681 runs at 35.84, with one century and five fifties. Not outstanding figures, but quite acceptable, you might think. The problem is that many of those runs have been against soft opposition and bowling attacks: Ganguly has had his share of the easy runs against the minnows, but he hasn't done much of note against the tougher teams. Whittle away the flab accumulated against Bangladesh and Zimbabwe, and the stats read 421 runs in 16 innings at 26.31 with only three half-centuries. Dig even deeper, and it turns out that one of those three fifties - against South Africa at Kanpur - came after the top three had laid a splendid platform: he came in to bat with the score reading a comforting 298 for 3. The main criticism against Ganguly the batsman is that he hasn't scored much lately, but also that he's hardly ever contributed when the team has needed him to. (Click here for Ganguly's score in his last 19 innings.)
| | | | |
| --- | --- | --- | --- |
| ganguly versus | Innings | Average | 100s/ 50s |
| Zim and B'desh | 3 | 86.67 | 1/ 2 |
| The rest | 16 | 26.31 | 0/ 3 |
The last time Ganguly's Test average was more than 50 was when India toured Australia in 1999-2000. In 53 Tests since then, he averages only 35.96 (56.17 against Bangladesh and Zimbabwe in ten Tests, 32.23 against the rest).
To make matters worse, his form has plummeted in the one-dayers too, a format in which he was considered one of the best in the world not very long ago. His last 42 matches have fetched him no hundreds, just seven fifties, and an average of 26.05, a huge fall from his career average of more than 40. And if the minnows are excluded from the calculations, the numbers are even dismal. Ganguly's leadership skills and the team's results meant that his place wasn't questioned, but with both those factors on the decline, Ganguly's batting form will increasingly come into focus in the near future.
Ganguly's ODIs travails
| | | | |
| --- | --- | --- | --- |
| Ganguly versus | Innings | Average | 100s/ 50s |
| Zim, B'desh, Kenya, UAE | 10 | 33.90 | 0/ 4 |
| The rest | 32 | 22.68 | 0/ 3 |
check his last
42 matches
record??
Cricinfo chronicles the relationship between Sourav Ganguly and Greg Chappell which started off in such endearing fashion but has ended up with much mutual recrimination.
August 2003

Ganguly heads off to Australia to take coaching tips from Chappell. Advice such as `don't look out for bouncers' and 'try and move your back-foot to middle stump and look to play forward all the time' are reported in the press. Ganguly goes on to make a classic century at the Gabba.

April 6, 2005

Ganguly puts forth Chappell's candidature before senior board officials twice, during the one-day series against Pakistan.

July 4, 2005
Chappell speaks to Cricinfo on the dynamics of the coach-captain relationship. "Once the game starts, the captain's the one out on the field," he says. "He's the boss, it's his team. I think that's a very important demarcation between the two roles. The coach can't make any runs, can't take any wickets, and can't take any catches. He can't change the bowlers or order the field placings. That's the captain's job and he's got to have the support of the players."

July 9, 2005
Indian selectors announce probables for the pre-season camp in Bangalore. Chappell is keen on having Ganguly at the camp for a few days despite his assignments with Glamorgan in the English County Championship.

July 13, 2005
Ganguly joins the camp in Bangalore for two days. "Chappell will get help from everybody," Ganguly said. "There is Rahul Dravid, Sachin Tendulkar, Anil Kumble, VVS Laxman and a whole lot of young boys. So, I am sure that they are going to make his way easier. I hope he enjoys with the boys."


Friendly start: Sourav Ganguly seeks Greg Chappell's help to sort out his short-ball woes © Getty Images

India lose the final of the Indian Oil Cup in Sri Lanka, where Ganguly makes 79 runs in 3 games, and falters again in the final of the Videocon Cup in Harare, where he manages 26.

September 8-10, 2005
Chappell and Ganguly are involved in a few mutual discussions during India's warm-up game at Mutare where Chappell suggests that India would be better served if Ganguly focused on getting his batting organised by stepping down from the captaincy.

September 11, 2005
Chappell admits that Ganguly's continuing slump is bound to affect the "other areas of his game", but added "I have no doubts he can make runs again. He's well aware of what he needs to do. There are some good signs on the way he's batted on this tour."

September 12, 2005
The matter of team selection comes up again before the first Test. Chappell reiterates that India should pick the best XI and when Ganguly pushes him for a frank opinion, Chappell says that left to him, he would have both Yuvraj Singh and Mohammad Kaif in the team ahead of Ganguly.

An angry Ganguly storms off to the dressing-room, summons Rahul Dravid and Amitabh Chowdhary, the manager, and informs them that he was packing his bags. Chowdhary asks Chappell to join in and all decide that Ganguly leaving in the middle of a tour would be disastrous.


Sourav Ganguly:'You can imagine the character of a person who within hours of a truce goes and writes such an e-mail' © Getty Images

September 15, 2005

Ganguly labours to his first century in 20 months and tells the media that he was asked to step down before the Test and that he found "extra determination" for this innings.

Ganguly's statement has the Indian media in a tizzy and rumours and stories fly thick and fast as India complete a convincing win at Bulawayo.

September 16, 2005

Both Ganguly and Chappell keep their counsel after the Test. "It's not right for me to make a statement now," said Ganguly. "You know what has been happening in Indian cricket. Other people are making the decisions; my silence says everything so I'll stick to it. Things come up from time to time and people get frustrated. They say things which probably they don't really mean and are not as important as they are made out to be. I think if we keep looking at success a lot of these issues would fade away."

Chappell adds that he is interested in following the right process: "There are some things which you can't control. We can only concentrate on what we are doing. I have been through this before. There is always going to be something bubbling around the place. We can't get worried about it or get involved in it."

September 17, 2005

Chappell dismisses reports that he threatened to resign. "I have no time to respond to such reports, it's absolute bullshit," he says. "Neither have I threatened to resign nor do I intend to resign."

Ganguly heads off for the scenic Victoria Falls while informing the media to the contrary. Chappell, on the other hand, heads for Harare, the venue of the second Test.

September 19, 2005

Chappell reads out a statement where he professes his respect for Ganguly and said the private discussion was aimed at motivating Ganguly for the Bulawayo Test. "It is disappointing that what was a private discussion between the captain and myself, has become a cause of public speculation. Even more disappointing is that much of what has been written does not represent the discussion fairly.

"It was a frank discussion about Indian cricket's present and future, and much of what I said was aimed at motivating Sourav for the Bulawayo Test match. In that regard our exchange was beneficial. Sourav and I share a mutual respect going back a long time. Thankfully, it is strong enough to survive what has occurred in the past week. I have great respect for what Sourav has achieved in his playing and captaincy career and look forward to working with him in the future."

September 20, 2005

Sachin Tendulkar speaks on the matter and says, "Such talks should not come out of the dressing-room and if it comes out then it's not right. Dressing-room discussions should remain within the dressing-room only. [The Indian board] should speak to the players after they come back. We would get the real story once they talk to the officials [after returning home]."


Sourav Ganguly: will he survive this messy episode? © Getty Images

September 21, 2005

Ganguly says he has no problems in playing under anyone else. "Playing for India is more than enough," he tells The Sportstar, "and I have been captain for five years all around the world. I've got nothing left to prove as a captain. Really did not matter to me, actually it felt nice to play without any thoughts and just concentrate on my game. It doesn't matter who is the captain, it has to be a team and all 16 contributing if India has to do well from now on till whatever time."

September 23, 2005

Chappell questions Ganguly's ability to captain the side in an e-mail to Ranbir Singh Mahendra, Indian board president. Mahendra confirms receiving the mail.

Ganguly tells the Ananda Bazaar Patrika: "I will say whatever I want to the board. I hope the board will give me a chance to explain. You can imagine the character of a person who within hours of a truce goes and writes such an e-mail."

September 24, 2005

Ganguly returns from Zimbabwe and says the issue should stay between Chappell and him and not be allowed to drag down the team. He terms the e-mail as a "sensitive issue" and adds, "I will talk to the board on the issue if they ask me. It is a sensitive issue at the present moment and I do not want to say anything to stir it up again."

September 25, 2005
The full text of Greg Chappell's e-mail to BCCI is released by the media. More damning accusations against Ganguly surface. "This team has been made to be fearful and distrusting by the rumour mongering and deceit that is Sourav's modus operandi of divide and rule. Certain players have been treated with favour, all of them bowlers, while others have been shunted up and down the order or left out of the team to suit Sourav's whims."

Harbhajan speaks out in support of his captain: "Ganguly has rebuilt this team and whatever the team has achieved so far, credit goes to the captain". He accuses Chappell of instilling "fear and insecurity" among the players.

More team members rally around their captain. "You can't just talk to the Indian captain like that, asking him to stand down on the morning of a Test. Sourav has led India for long now and that's not the way a coach should talk, no matter what his stature is," said one player, who obviously did not want to be named.


Fans shout slogans against Sourav Ganguly © Getty Images

BCCI responds by gagging Indian players and tells them to "exercise restraint" and avoid speaking out on the issue.

September 26, 2005
Ian Chappell bats for his brother: "If Indian cricket wanted someone who would passionately seek to help players who wanted to improve, would do his utmost to put the best team on the field for every match without fear or favour and would offer a frank opinion when asked, then they were on the right track with Greg Chappell."

Raj Singh Dungarpur, former BCCI president, accuses the Dalmiya camp for the e-mail leak. He says Ganguly has "no place in the future of Indian cricket" and that "If Dalmiya did not rule Indian cricket, Ganguly would have gone a long time ago". He lashes out against Harbhajan Singh as well: "He should concentrate on his arm, rather than talk about whether Ganguly is right or wrong ... once a chucker always a chucker".

Sourav Ganguly's maternal grandfather passes away. This throws an uncertainty over Ganguly's participation in the review committee meeting to be held tomorrow.
OPINION POLL
Source - outlook
Ganguly vs Chappell
Who's right? Who's wrong? Tell us what you think of the unfolding farce in Indian cricket and match your answers with the magazine survey.

Did Greg Chappell do the right thing in suggesting that Ganguly sit out and let Yuvraj Singh and Mohammad Kaif play the Test match?

Yes 82.46%
No 14.47%
Can't Say 3.07%

Total Votes:- 228

Do you think senior players like Ganguly, Laxman, Kumble are frustrated under Chappell?

No 40.53%
Yes 30.4%
Can't Say 29.07%

Total Votes:- 227

Should Saurav Ganguly step down as captain on return

Yes 85.46%
No 11.89%
Can't Say 2.64%

Total Votes:- 227

Did Ganguly do the right thing in revealing to the press that he had been asked to step down before the Test?

No 90.31%
Yes 8.37%
Can't Say 1.32%

Total Votes:- 227

Is it possible for Chappell and Ganguly to work well together, or will the peace be tenuous?

No 77.19%
Yes 13.6%
Can't Say 9.21%

Total Votes:- 228

Is Chappell in a hurry to impose his views on the team and assert his will?

No 53.95%
Yes 35.09%
Can't Say 10.96%

Total Votes:- 228
indiatimes poll
Do you think Chappell is honest in his intentions?
Yes 86%
No 10%
Can't Say 4%
its been too long a post will air my views in next post..
:: scribbled by Prashanth at 9/27/2005 11:34:00 AM
(8) Comments
|
Link this post
|
|
Friday, September 23, 2005
Innocence personified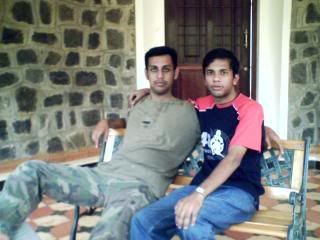 naanum
sudarshanum
...
enna parthu niraiyya per thellavaarinnu solraanga..ithu nyaayaamaa???....
naan oru appavi...!!!
:: scribbled by Prashanth at 9/23/2005 04:04:00 PM
(3) Comments
|
Link this post
|
|
Monday, September 19, 2005
Harischandran varaan ..poi solla poraan..
Any ideas of what the topic is all about. Guyz have all of a sudden started perusing through their past and googling has touched a new high in terms of frenzy...the whole campus is abuzz with people proclaiming that they have achieved this and that... some want to even put LKG achievements....

yeah..u r right.. the resume preparation season has started..

suddendly all harischandra's have been re-born and people want to say so much about themselves. generally they say people are different and have different abilities and tastes , but suddenly everybody seems similar and u find that there are millions of people who share the same key competencies abilities.. u suddenly realize that u have so many long lost cousins across the globe that their profile and your match. The way you describe yourself and the way they have described themselves match such a way that u are left to believe that telepathy does exist in this world.

This is the time when we are subjected to super comedy stuff's..

got merit card from LKG to 3rd standard.
came 2nd in hopping competition(now,how many ran in the race..i bet its two..)
class representative
maths olympiad participant
best performer in company
top 2% among all performers in company(if everyone falls under 2% then where are the remaining 98%)
Arranged Treasure hunt competition in my company
got a+,a,b,b+ in certain subjects..
able to handle stress when the odds are stacked against me...(guyz this ain't an essay writing contest)
manage my team leader effectively(what?????)


My only achievement has been to evade the poilice maama and get away after paying a 10 Rs bribe for coming in no entry. will that qualify as a good marketing ability and streetsmartness???(somebody help me,gotta finish resume by 2day)


this happens in all colleegs i guess..
i have seen it happen in my undergrad days when my interest absolutely coincided with that of my roommate who had already been placed. we had so much overlap in interests that barring the grades and name everything else was same. what a coincidence.

Now that placement frenzy has started i better start preparing for it and i heard that P&G might come. keeping fingers crossed. prashanth start studying!!!(again an oxymoron) ..nevertheless lemme make an attempt...

btw i guess i look konjam decent in the photo wherein i wear a suit..i dont want any comments on this please..i have had enough of the encomiums and lavish praises abt my looks..u might make other readers jealous..so please spare your comments..


Disclaimer - some of the statements made above are fictional and added for humour sake.No hard feelings please!!
:: scribbled by Prashanth at 9/19/2005 02:55:00 PM
(0) Comments
|
Link this post
|
|
Friday, September 16, 2005
B-school Gyaan
If you become a successful manager u become a best seller
else you become a case study

the CEO is the company's bottleneck
the company grows as proportionate to his vision's width...
:: scribbled by Prashanth at 9/16/2005 09:17:00 AM
(0) Comments
|
Link this post
|
|
Monday, September 12, 2005
Scudie magan..Mavane Thappichittada!!
Oru kalloriyin kadhai(OKK) illa Vadai - Oru kalloriyil Tea kadai would have at least made the film title interesting....
a big f**k uuuuuuuuuuuu to all those who said the film was good.... even worse would be an understatement..
After Kaal one of the worst movies to have watched...nandha periyasamy ... better go into hibernation...there are close to a 1000 guyz after your head..
after diligent planning for 3 days we decided to watch the movie..
Scudie
did some market research for us and got the tickets for OKK . he first went and asked some movie goers about thotti(kutti) jaya and the review was its better to watch the film in VCD's . our hero immediately got into the conclusion that it is better to watch OKK , only to be warned after the film that this film is not woth to be watched even if somebody pays for the film. at least we could have got to see some stunts,good songs and brilliant camerawork from thotti . we tried ah aah and did not get the tickets. SO OKK clicked and we got trapped.
let me do a SWOT ( strength ,weakness, oppurtunity,threat) for this film.
Strengths
Yuvan's two songs..have the same (almost similar) tunes

director's ability to Keep the audience wondering who the hero is

Charu Haasan donning the role of a hypnotist and saying "come on" frightening the wits out of all viewers. excellent thriller stuff..spine chilling experience.

a senti scene with watch man ...must watch ...they celebrate watch man's b'day and watch man speaks non stop for 5 minutes leaving the entire audience to gasp fro breath.

aarya trying to act like citizen ajith....awesome..

sonia agrawal's dialogue saying that if u love someone u shud never say thanks....what a romantic statement

hero's logic to leave class at 12 PM to sight adichify the heroine...heights of love...unbeatable...

some 3-4 medical jargons for which even the director does not know the meanings

Weakness

story
script
direction

thats all...

Oppurtunities

Sonia agarwal..could have been used to act in a few more scenes..

threats

oru naal oru kanavu can give stiff competition to be the worst movie of teh season..

:: scribbled by Prashanth at 9/12/2005 03:12:00 PM
(1) Comments
|
Link this post
|
|
Friday, September 09, 2005
aiyyo!! paati aala vidu..
a interesting conversation with my grand ma..
most of the below post is in tamil..so kindly adjust..

patti - ennada ambi, computerla irukkur a ponnu yaaru daa..(screensaver)

me - athaan naan kattika pora ponnu paati..

patti - (shocked) enna da solra, unmaiyaaa solraa??

me - aaamaam paati unmai thaan..ennoda collegela padikkiraa..

paati - ethulaam nalla illa da ambi, unna mala pola nambinen nee ippadi pannuvenu ninaichu kooda paakala..seri ponnu peru enna??

me - madhumitha..

paati - enna avaalum brahmnaala???

me - aamaam paati aana iyengar

paati - enna daa iyengaara?? dei namba kudumbathukku ithellam seri varathu daa... (asking my mother) yen di shantha unakku ithellam theriyumaa..iyengar ponname.. ganapathy onnum sollalaya?(my father)

amma - intha kalathula namba solrathu yaar ketkara, love panni kalyanam panni vendiyathu thaan..yenna panrathu..

paati - seri ponnu appa enna panraru, nemba vasathikku eedanavaala..

me - ponnu appa RBI'la GM aa irukkarr..

paati - apponaa padichu mudinjodanaiye kalyanamaa...

me - illa paati 2-3 varusham pogattum..

paati - ponnukuu evalo vayasu??

me - 22

paati - 5 lakhs kuduthu padikka anupcha nee vanthu panra karyathuu paaru..konjam kooda nalla illa.. nambathule athuvum nee ippadi pannuvennu naan konjam kooda ninaikala..seri ithellam unga thatha kitta sollidalaama..enime nanga ethukku onukku ponnu paarkanum,neeye ellam senjiitte..

me - ayyo paati alla vidu, antha ponnu vera yaarum illa cinema actress ASIN . neenga paartha thaan enakku ponnu laam..kavuthudatheengaa....
:: scribbled by Prashanth at 9/09/2005 06:32:00 PM
(3) Comments
|
Link this post
|
|
Thursday, September 08, 2005
scudie tag's me..
Seven things I plan to do before I die
1. Study in a college like Kellogg or wharton..high hopes u might say..
2. Make some quick bucks of coz legitemately.
3. Give some of it away.
4. Travel A lot.
5. Direct a movie which i will not release for fear of being hit by rotten tomatoes
6. Get married and if possible have some kids.
7. become a professor at the age of 45.
Seven things I CAN do
1. Try to read more
2. Beat pavan academically in at least one more subject
3. Get a girlfriend
4. Listen to some english rock music
5. Stop teasing Bibin.
6. Sleep less
7. Drive my car
Seven things I CANNOT do
1. Stop being lazy
2. being quiet for more than a hour(excluding time when i sleep)
3. Get a girlfriend
4. Understand women
5. stop teasing bibin.
6. Stop talking about thalaivar rajni during lunch sessions.
7.Read more
Seven things that attract me to the opposite sex.
1. Fair complexion..yeah to a certain extent i am rascist
2. Nice long hair
3. Open-mindedness
4. Lack of make-up
5. Good sense of humour and shud not laugh when i say that i had idli for breakfast.
6.Should watch a lot of tamil films and willing to watch it in theaters with me.
7. shouldn't be a nancyi.e too puch female peter'isms..
Seven things I say most
1. Dai
2. Oth$$
3. Baa$$ (Anniyan has made this word an integral part of every kid's vocabulary)
4. Machan/Machi/Mama/Mapillai
5. are are are
6. freeya vidu
7. Galeej
Seven celebrity crushes
1. Asin
2. Bhumika chawla
3. Kate winslet
4. Priya Gill
5. Preethi jhangianil
6. Gayathri joshi
7. catherine zeta jones
Seven people I want to tag
Vijai
Gopal
Bhars
Vinod
kaps
Ram.C
Siva
:: scribbled by Prashanth at 9/08/2005 01:34:00 PM
(4) Comments
|
Link this post
|
|
Friday, September 02, 2005
Memories are sweet
Blogging after a great hiatus . with a ligament tear in my right knee and exams and assignment i was left wondering whether i would still retain the earlier passion for blogging. currently chinese class is going on and people are saying something..ta muchin shwo ta chin muchin jyau taa.. makes any sense..neither does it to me.. chinese is a damn difficult language.. for us indians its really difficult to learn it and the sir is doing his best us the knowledge, but its the language which in its basics itself seems so tough..

yesterday was a great day and i felt really happy..i have always desired a lot of things but when it came to achieving something i have failed and have compromised. not that i have missed anything big in life, but i always feel that i should achieve one of my larger goals thru the path which i want to tread and not one which comes up as a alternative. one might say that all roads lead to rome, but at least in one instance i want to reach rome via the road which i want to travel and not roads wherein i have lost my way and then somehow after fumbling through various roads reach rome finally.

in that sense i would say with respect to the colleges where i wanted to study and the girl with whom i wanted to be more close with had been disappointments. well , now i don't have any regrets as to how my life has shaped but i would have preferred the elusive road .

Yesterday i was chatting with one of my college/school crushes, and as we were talking she said some stuff. i felt real happy . things which you did not know , things which had been so interesting had been in the lark for 6 years. i cant reveal the conversation for privacy purposes,but somehow it made me feel so full. I think back at the ironies which existed and for a moment i felt what if?? but then, we all know all we get back from the past is just memories and hushed away those if's and but's . it was so nice to hear that a girl had really thought about me and well,had those feelings. both of us never conveyed it for years altogether and when one of us did the other wasn't ready for it . thats the beauty of irony. there have been so many ironies in my life that i dont know whether i can laugh at it or cry at it. but as of now , i am having a hearty laugh.hoping that doesn't leave a lump in my throat.
:: scribbled by Prashanth at 9/02/2005 10:03:00 AM
(6) Comments
|
Link this post
|
|