Chennai Born Confused Softie
Chennai Ambi's Musings...
Sunday, March 26, 2006
Hello!!! is this prashanth ???
A week back Mr.A calls me...
" Hello, ji kya yeh prashanth hai ??" (Is this prashanth)
Yes, this is prashanth, may i know who is on the other side of the line..
"My name is A, i belong to pakodapur, i and my friend have sent our great lakes application form two days back..I haven't got any intimation from college. my application number is 123456 and my friends is 234567..can you look into it and let me know..."
"No problem dude, call me in another 2 days i will let ya know.."
4 days later he calls me at 9:30 in the night..and this time his voice is husky...
"Hoi prashanth ji meri application ka kya haal hai" ( what's my application status)
dude, congrats, you and your friend both got shortlisted, you have interview on so and so date"
and he speaks some gibberish and the phone disconnects..
I receive a call at 12:30 in the night again..
I pick up my phone sleepily and answer " Hello"
HOi prashanth Ji, mein A bol raha hoon... actually i was in the bar when i called you at 9:30 , i could not make out what you said, can you repeat it again...
Me...grrr.........
this is what you get for doing social service !!!
:: scribbled by Prashanth at 3/26/2006 07:05:00 PM
(4) Comments
|
Link this post
|
|
Monday, March 20, 2006
Height of vettiness
What do you call a person who goes to each one's orkut and scraps messages like this...???
dei vasanth naa mattum vidama unnoda scrap la ezhudarein ..nee ezhuda ve mattein gare
doesn't come to college and scraps back to 50 odd people the same message
maama, enna aale kannum , enna pannara
for more info go
here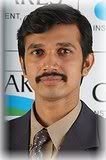 :: scribbled by Prashanth at 3/20/2006 09:51:00 PM
(0) Comments
|
Link this post
|
|
Pattiyal - U fall in love with these two gangsters!!
watched pattiyal yesterday along with vk, cub,prasad and satish. Tamil cinema is entering a new era with new directors ruling the roost and Vishnuvardhan proving that his last movie arinthum ariyamalum was no flash in the pan. He does a classic act even in Pattiyal and comes out with a movie which is both fresh as well as one that lingers in your heart for a long long time..
The movie starts with bharat killing a person in style and then walking away from the scene personifying complete innocence and hopping on to the pillion seat behind arya. The scene then moves to a song which has some comic picturisations.
Bharath and arya are hired killers who work for Saami( VC hanifa) and stick on to their tasks. Bharath as the mute and deaf gangster steals the show while aarya proves yet again that he is the most apt actor on the film circuit to act as a gangster or rowdy or should you call it vishnuvardhan's talent to extract the maximum from him.
I dont want to give the entire story as the film's suspense gets lost. Padmapriya features as arya's ladylove and pooja as bharath's ladylove. There is very little scope for Pooja but she has performed commendably within her limitations and its padmapriya who comes out with a stunning performance. this girl is a absolute natural and emotes with ease. Limited potential but brilliant performance.
Arya is rough, uncouth a bit barbaric a man without emotions and his dialogue delivery is the highlight. The comic timing of his dialogues is a major plus. the camarderie between the two lead actors is the highlight and the unique bonding between the two friends is something new to be seen in tamil cinema. A very realistic depiction.
The ironies highlighted in the climax is the masterpiece or masterstroke from vishnuvardhan. though the film is replete with gore and bloodshed , for the story i think it was necessary.
major pluses
Bharath and aarya
Cameraman - donno who it is, but this guy has got talent...awesome work
Music - Yuvan again rocking to glory...
editing - scenes were really continuous..
Screenplay - movie moves damn fast in the first half that you realize that a hour has passed only when the interval comes
Minuses
hardly any, maybe the movie is a bit slow in middle of second half..
Verdict : Must watch for anyone who wants to see good tamil cinema..
A very realistic gangster movie, closely inspired by satya and also executed well...3 cheers to vishnuvardhan !!!
:: scribbled by Prashanth at 3/20/2006 11:51:00 AM
(1) Comments
|
Link this post
|
|
Thursday, March 16, 2006
HOli hai...
Celebrated holi with much fanfare..30 guyz became rogues on holi day and indulged in colourful revelry...
started with 3 people and the gang became 30 in the end.. ajay,priyadarshi,anup and modi were the guyz who were smeared with alll sorta colours... chennai for a moment became as some sorta place in north india.. went to every guy'z place near the campus pulled them out and yup then they got the treatment....
manu my roommate got the shocker of his life..he is one of the most decent,studious chaps who always goes in formals to college and well , you should see his head yesterday..he looked like a blue haired dude..all girls would have drooled over him..ohh..boy manu !! i bet he enjoyed every moment of it..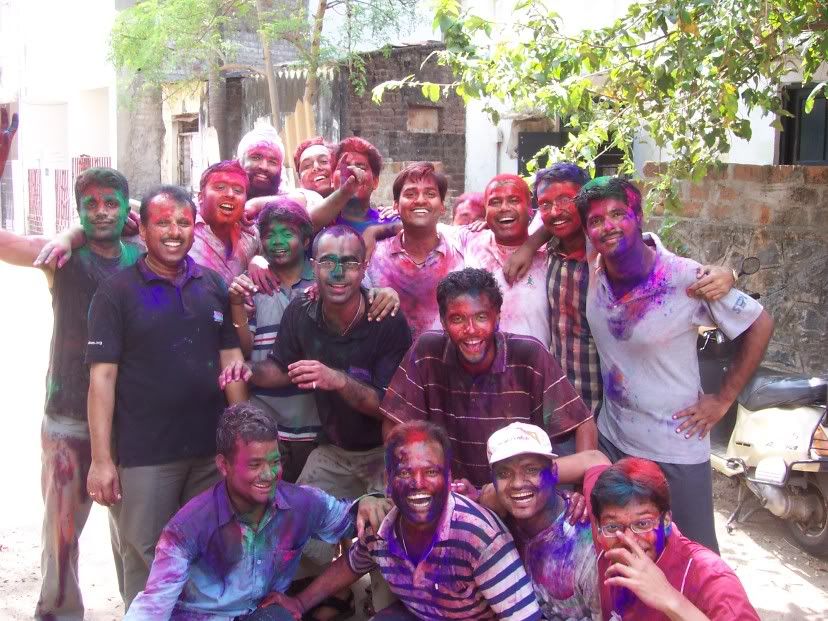 :: scribbled by Prashanth at 3/16/2006 12:30:00 PM
(3) Comments
|
Link this post
|
|
Friday, March 10, 2006
Orkut --- comedies and love triangles..
Just could not stop blogging... wanted to write abt this for a long time and have now written it..

One of the most Vetti tools on the net....
started as a dating service but spread it tentacles to cover other aspects..
I too started orkutting with the intent of flirting , but graduallly realized its pointless and now resort to vetti arattai.. and of coz networking with people of similar tastes and interests..

what i find really funny is some of the replies in the scraps of some really gorgeous girls... they are drop dead gorgeous and you really wonder whether they are real, but still some dumbos go and post some stupid inane scraps...a sample of it below...

incidentally majority of the scraps are from software professionals..:)

Hi ABCD,
I am interested in doing friendship with me.I am a software professional.
Are u interested?

Hello BCD,
I liked ur passions as dey r mine as well....do u play guitar or just listen....Well I am a s/w professional but a big music freak.. So If u think v cud b frens den its ok else sorry dear..
bye n have a nice time

hello dce,


i find u r very beautiful.
would l like to know u more
what do u say



u look gorgeous
it wood b nice 2 hav such a beautiful face on my frend list
n u r d one 2 help me out
ok den bye dear frend
hav a good day
n plz do reply



i & how r u...MIss M..i m J..can i ADD u...its my request,,it is not my ORDER..pleazz...inkara nahi kerna..ok..beyyyyyy



hi i m comming to ur INDIA ...... 1st March ..... where r u live .. if u dont mind ...R
:: scribbled by Prashanth at 3/10/2006 01:54:00 PM
(0) Comments
|
Link this post
|
|
Wednesday, March 01, 2006
Awesome selling workshop
I am attending a workshop on pricing and selling by prof VK murti.. simply scintillating... a brilliant case study has been given. the beauty of teh case study is its been divided into 15 parts each part dealing a different situation involving the selling process. had teh case been given as a single doc.. the charm would have been lost. after each part we discussed as to what needs to be done and how the person reacted. gave so much insight and so much selling knowledge that i believe i have got my 4.5 lakh of education worth in this class alone. Mind blowing.. though i gave just 50% attention the case just took me out of the world. A real life effective selling process converted to a brilliant case.


This is the first time i am writing abt the quality of education and i must say i am previliged to be taught among the best faculty in the country and world. then next few weeks are gonna be even more better as the rest of my electives are taught by real studs..i mean real studs..some prominent people are rama bijapurkar,nirmal gupta,ranjan bannerjee, Ravi C ....wow.. what an end to a eventful year..somewhat like dhoni's blitzkrieg at lahore..
:: scribbled by Prashanth at 3/01/2006 07:28:00 PM
(0) Comments
|
Link this post
|
|